BioBizz Starters Pack
Regular price
R 1,650.00 ZAR
Regular price
Sale price
R 1,650.00 ZAR
Unit price
per
Sale
Sold out
Share
BioBizz Starters Pack.
Introducing the BioBizz Starters Pack – Embrace your strong organic convictions and nurture the well-being of our planet. Is quality your priority over quantity? Are flavor and vibrancy the essence of your crop's appeal?
No matter your values or aspirations, Biobizz is your choice, making the rest of your journey effortless. Our Starters Pack is thoughtfully curated with everything essential to embark on your own cultivation venture.
Embark on the Biobizz journey…
Let BioBizz unveil nature's enchantment: from rooting and growth to the blooming stages, leading to a bountiful harvest.
You needn't be an expert. Follow our official Nutrient Schedule, and both you and your plants will flourish harmoniously.
Each BioBizz Starters Pack contains, accompanied by leaflets and other practical aids*:
1L Bio·Grow
1L Bio·Bloom
500ml Top·Max
250ml Root·Juice
250ml Bio·Heaven
*Accessories may vary
Biobizz World Wide Organics is committed to crafting and exporting organic fertilizers of supreme quality, ensuring exceptional outcomes for growers who use our products.
Biobizz's journey began in 1992 in Groningen, the Netherlands, as a small family venture with a limited product range. However, the product's DNA was already deeply ingrained.
Since then, Biobizz has flourished. Operating in 70 diverse countries, we maintain a family-like atmosphere where every team member collaborates to sustain Biobizz's leading position.
Feeding Schedules: Not every product on the feeding schedules needs to be used for outstanding results, especially if you're in the initial stages of experiencing BioBizz.
Remember, BioBizz is an organic nutrient that relies on beneficial microbes to break down nutrients for plant absorption. "Clean" coco coir substrates lack these microbes, requiring their addition to establish colonies that facilitate nutrient breakdown. Enriched or amended substrates often already possess beneficial microbes, directly or through amendments like worm castings or compost.
Furthermore, enriched substrates ("hot soils") demand less additional feeding, thanks to their nutrient-rich amendments. The choice of substrate composition influences your feeding needs, favoring either the vegetative or blooming phases.
Thankfully, organic nutrients are forgiving in dosing compared to mineral nutrients. No need to stress, just adhere to the recommended schedule!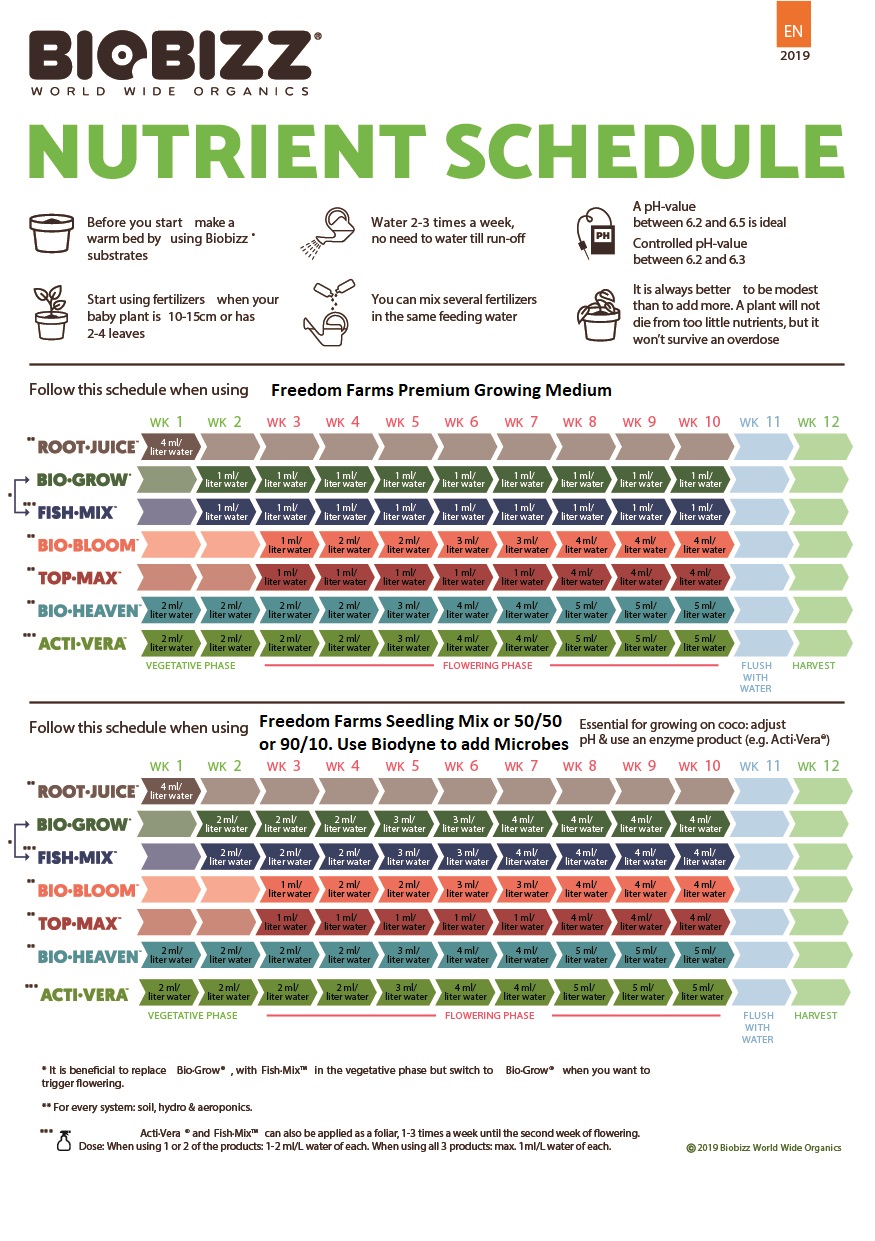 Looking to try BioBizz Nutrients? why not start with the BioBizz Starters Pack or Any Cannabis Nutrients for your beginner or pro set up? Visit Skyline Vape & Smoke Lounge today, or check out our online store for more.
We Don't Just Ship to Johannesburg, Cape town & Durban we ship Nationwide Anywhere in South Africa!
View full details